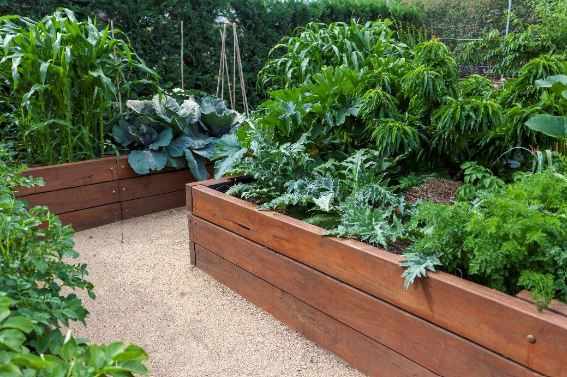 Make Gardening Fun Again With Raised Garden Beds
The health benefits of gardening outdoors are almost limitless. Your hours spent in the garden are proven to reduce stress, improve mood, and even increase your appetite. Exercise helps our bodies stay healthy, and vitamin D-enriched sunlight helps strengthen our immune systems. If you grow produce in your garden, the healthy foods and a feeling of accomplishment can nourish your body and mind.
But sometimes, things happen that keep us from our gardening. Maybe you experienced a long-term illness or were forced to endure bed rest for a risky pregnancy. Perhaps you're overwhelmed with work or family obligations.
The reason doesn't matter. You need to know how to make gardening fun again. And the best trick might be to start with some raised flower beds.
3 Reasons Why Raised Garden Beds Are A Great Idea
Raised beds accomplish three things for the reluctant gardener. First, they make it physically easier on the gardener. If you've been struggling with arthritis or other ambulatory issues, raised flower beds make the act of gardening easier.
Secondly, raised beds are great for most crops. For food-growers like us, raised beds extend the growing season, equaling a more abundant harvest. They're also great for soil drainage.
Lastly, raised garden beds add visual interest to your garden. It's like looking at a freshly remodeled room. You'll get excited to get out and garden. When neighbors or guests see them, they'll get excited, too. That sense of pride and accomplishment can be very motivating.
Now you're getting interested in adding some raised flower beds to your garden, let's get inspired.
Types of Raised Flower Beds
Bobvila.com recommends four types of raised garden beds for home gardeners. These are:
A raised ground bed requires no additional materials beyond soil. Think of them as flat-topped mounds of dirt, about six or eight inches high. They are a little labor-intensive at the early stages. You'll be piling up a lot of soil. But once complete, they'll add a lovely visual dimension to your garden.
A supported raised bed is the next level. It's like the raised ground bed above, except bordered by materials like stone, wood, bricks, etc. They're ideal for sloping yards, and you can build them as high as you like.
Containerized raised beds can be as large as you like and are somewhat mobile. For instance, if you need to move delicate fruit trees indoors for the winter, they are a perfect solution.
Elevated containerized beds are like containerized beds on taller legs. They're mobile, and they're ideal for individuals with ambulatory disabilities.
On Materials
If your garden is ornamental, your choice of materials is entirely up to your aesthetic preferences. Stones, bricks and lumber all have a unique appeal.
Vegetable and herb gardeners should avoid using pressure-treated lumber, however. That's because treated lumber can leach heavy metals into your soil and contaminate your veggies. If you buy pre-constructed raised beds, keep that in mind.
Where to Shop for Pre-Constructed Beds
Thanks to the magic of the internet, it's easier than ever to order pre-constructed flower beds online or buy kits. When shopping for raised flower bed kits, consider the ease of assembly. Read the directions and materials list closely. You'll probably need some essential tools, like a hammer, nails, and possibly a drill.
More advanced kits might require the help of your local handyman.
You can look for raised flower bed kits at:
Big box stores DIY
Your local nursery
Amazon
And eBay
Just check the measurements before committing.
We hope you've enjoyed our discussion about making gardening fun again. Lettuce Begin (I couldn't resist) the journey, if even small.
Katie Namet
The Potager Gardener.com
Related Reading & Resources: Raised Beds vs. In-Ground Gardens